"Eduardo was already preparing fully-blown feasts for his family and friends when most kids of his age couldn't even boil an egg!"

Ask the inhabitants of Pimonte, the pretty little town on the slopes of Monte Faito, about Eduardo Vuolo and they'll tell you how Caesar Augustus' brilliant chef was born with a wooden spoon in his mouth.
Eduardo began working in professional kitchens at an unbelievably young age. In fact, he was just 13 years old when he spent the first of three summers working in the kitchen of a little Neapolitan restaurant on the Tuscan island of Giglio!
Hard working and clever too, Eduardo was an extremely gifted student, which was why his teachers were so dismayed when he told them of his decision to leave academic life in favor of the kitchen.

Local legend has it that the headmaster even made a desperate call to Vuolo's parents, hoping that they could make him change his mind! Luckily for Eduardo, his mother (herself a talented cook), was as enthusiastic about her son's chosen career as he was.

As soon as he turned 16, Eduardo started working in a string of prestigious restaurants in and around the Amalfi Coast, including Positano's Palazzo Murat, the Antica Trattoria and Il Buco in Sorrento, and Hotel Le Sirenuse's Michelin-starred La Sponda restaurant. It was here that he had the once-in-a-lifetime opportunity to work side-by-side Alfonso Iaccarino, the award-winning chef patron of the Don Alfonso 1890 in Sant Agata sui Due Golfi. In 2012, the by now much sought-after and still only 28 year old chef sailed across the Bay of Naples to Capri, to take command of Hotel Caesar Augustus' La Terrazza di Lucullo cliff-edge restaurant.
He's been wowing guests with his culinary magic every lunch and dinnertime since.

The secret of Eduardo's gastronomic success? Simplicity, creativity and, of course, the fantastically fresh fruit and vegetables grown in Caesar Augustus' kitchen garden.

And in the winter, when the hotel is closed? When he's not busy tending the winter vegetables in the hotel's kitchen garden or inventing new dishes for his delicious seasonal menus, you might easily find Eduardo happily cooking away in another raved-about restaurant, such as Alain Passard's 3 Michelin Star L'Arpege in Paris!
Philosophy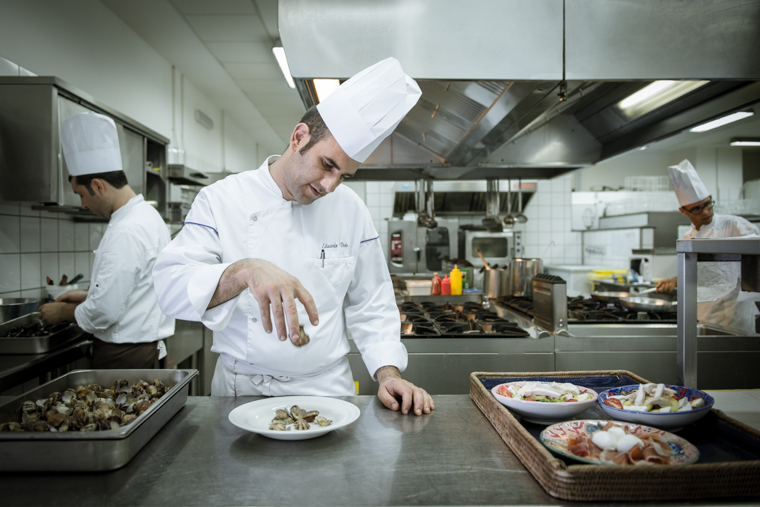 Eduardo Vuolo's philosophy is a simple one: less is more! The only additions he makes to the flavorsome fish caught in the sea surrounding Capri or the succulent meat supplied by local farms, are a sprinkling of the freshly-picked herbs grown in the hotel's kitchen garden, a drizzle of Italian olive oil and a generous pinch of...passion!
Maitre Gaetano De Maio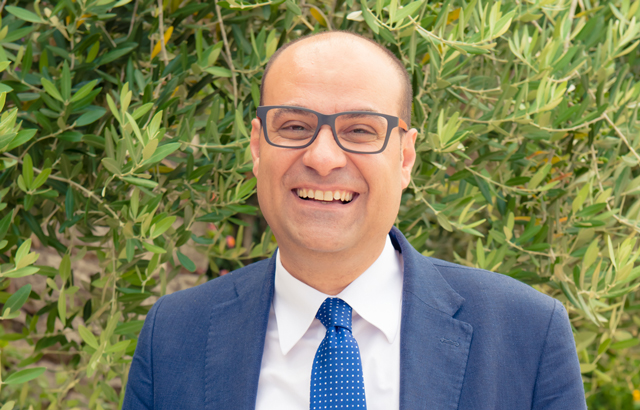 Gracefully guiding you through La Terrazza di Lucullo's menu and carefully researched wine list, Restaurant Manager and qualified sommelier Gaetano is the epitome of old fashioned Neapolitan charm.
To book a table or make an enquiry +39.081.8373395 or concierge@caesar-augustus.com
Location
La Terrazza di Lucullo
Hotel Caesar Augustus
Via G.Orlandi, 4
80071 Anacapri (Na) Italy
Lunch: from 12.30 to 14.30
Dinner: from 19.30 to 22.30
Every day from May to October